Neuropuncture Workshop: Neuropuncture's Pain and Orthopedics Module
Taught by Peter Larking, BScH, MNZRA, Certified Neuropuncturist, Neuropuncture Instructor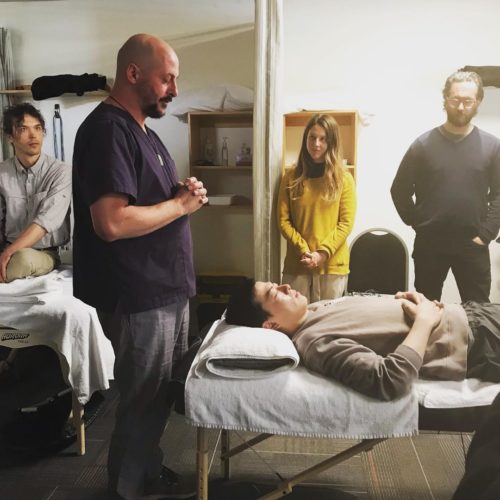 TAKE YOUR PRACTICE TO THE NEXT LEVEL!
This is the perfect opportunity to bridge your understanding of neuroscience and neurophysiology with your clinical acupuncture practice.
This 2-day hands-on Neuropuncture workshop is packed with neuroscience research and evidenced-based clinical Neuropuncture treatment prescriptions plus the Neuropuncture Auricular system for instant pain management Peter Larking will examine and teach the Neuropuncture Foundations including the Neuropuncture Trinity (the 5 Neuropuncture neurophysiological mechanisms, the 5 Neuropuncture treatment Principles, and the 5 Neuropuncture Electrical Techniques) as it pertains specifically to Pain and Orthopedics plus the Neuropuncture Auricular system. The goal of the Neuropuncture Trinity is to give the practitioner the tools to utilize 21st-century sciences to best communicate, and understand, exactly how acupuncture provides its profound widespread neurophysiological effects.
WORKSHOP
Schedule
Neuropuncture Trinity (applied to

 

Pain and Orthopedics plus the Neuropuncture Auricular system)

5 Neurophysiological Mechanisms

5 Neuropuncture Treatment Principles

5 Neuropuncture Electrical Techniques

Electrical Acupuncture: Pantheon 8c demonstration and training

Neuropuncture's needle technique training

Neuropuncture's Auricular system

Demonstration and practice

Orthopedics and pain medicine: their specific disease neuropathology and treatment

Statistics and discussion

The Neuropuncture Clinical Assessment

Orthopedic Neurological Evaluation (ONE)

Neurological exams, physical exams, and Functional Neurology assessments
The Neuropuncture Clinical Process

The Neuropuncture Clinical Assessment (Discuss and review yesterday's material)

Orthopedic Neurological Evaluation (ONE)

Neurological exams, physical exams, and Functional Neurology assessments

Neuropuncture Treatment Prescriptions:

Neuropuncture's Cervical spine: 

HNP with radiculopathy

Whiplash 

Neuropuncture's Lumbar spine: 

Sciatica, 

SI-joint dysfunction.

Neuropuncture's Knee: 

OA, 

medial meniscus injury.
"Learning Neuropuncture has increased my ability to SUCCESSFULLY treat difficult cases well above and beyond how I practiced using the traditional model. The less complex cases improve much more quickly now as well. Learning Neuropuncture has given me the knowledge that I need to educate my patients and other healthcare professionals. My referral base is stemming not only from my patients but their treating physicians as well."

Bart V.
REGISTRATION
early bird special pricing
2-Day Neuropuncture
Hands-On Workshop
16 CPD
2-day hands-on workshop
Neuropuncture workshop certificate
REGISTER NOW
"Neuropuncture training vastly outperforms my traditional acupuncture training. Emphasis on research, clinical outcomes, and the scientific underpinnings of acupuncture through a neuroanatomical mindset sets Neuropuncture apart from traditional training in a number of ways. Chief among them is giving me a firmer grasp on the language and science of acupuncture that allows me to effectively communicate with other healthcare professionals in hospitals or private medical clinics. By viewing acupuncture through the lens of Neuropuncture, I am able to address my patient's conditions with a greater degree of accuracy and efficacy than with the techniques I was taught in school.

Jonathan W.
Location
Newtown Acupuncture Centre
82 Riddiford Street, Wellington 6021
"I've been using Neuropuncture in my practice solidly for about a month now, and one of the great things I've noticed is many of the patients that I've treated in the past are starting to come back in for treatment due to someone talking about their treatment with me. My clinic has been built entirely from word of mouth, and at the moment it feels like this has been supercharged. I can only put it down to me loving doing Neuropuncture so much and getting some really positive results.

Stephen A.
we've got you covered
frequently asked questions